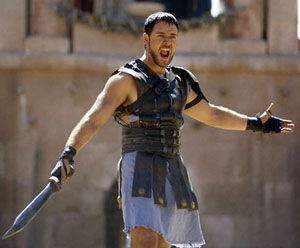 Satt igår och slö-läste lite citat från den förträffliga filmen
Gladiator
. Några av dessa citat etsade sig fast på min hornhinna. Det är allt några riktigt vassa repliker Maximus levererar. Framför allt den sista, den borde man ha som eget inre mantra.
[Maximus looks at images of his wife and son]
Juba:
Can they hear you?
Maximus:
Who?
Juba:
Your family. In the afterlife.
Maximus:
Oh yes.
Juba:
What do you say to them?
Maximus:
To my son - I tell him I will see him again soon. To keep his heels down while riding his horse. To my wife... that is not your business.
------------
Commodus:
How dare you show your back to me! Slave, you will remove your helmet and tell me your name.
Maximus:
[removes helmet and turns around to face Commodus]
My name is Maximus Decimus Meridius. Father to a murdered son, husband to a murdered wife. And I will have my vengeance, in this life or the next.
------------
Maximus:
Strength and honor.
------------
Maximus:
What we do in life echoes in eternity.