Jag har tagit mig samman och gått igenom alla bilder som jag tog under resan till Jordanien. Det blev ett gäng men så är det ju lätt hänt när man har lite rolig kamerautrustning att leka med. Hur som helst så inleddes resan förra veckan med avresa mot Jordanien samt mellanlandning i Wien för en bensträckare. Resan var överraskande smidig och tog sammanlagt sex timmar i ren flygtid (2.5 + 3.5 timmar) samt lite dötid mellan flighterna. Trots den ganska korta restiden så kändes det verkligen ganska exotiskt då man väl kom fram. För mig var detta första gången jag reste till ett arabland och jag hade stora förväntningar på resmålet.
Jag reste tillsammans med mina kollegor på denna årliga resa. Känns verkligen lyxigt att under hösten/vintern få möjlighet att sticka iväg med sina arbetskamrater för lite konferens och sightseeing. Mamma Marika ryckte in på hemmaplan och avlöste mig i min pappaupptagenhet vilket förstås var nödvändigt för att jag skulle kunna följa med på resan. Genom åren har vi besökt en hel del intressanta länder så som Japan, Costa Rica, Kenya, Vietnam, Mexico och nu var det alltså dags för Jordanien.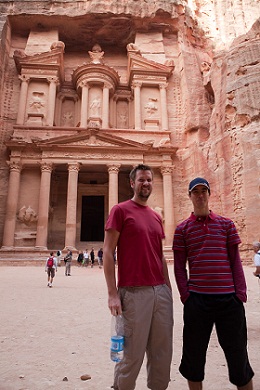 Jag och en go kollega poserar i Petra framför Khazne al-Firaun.
Direkt då vi anlände på torsdagseftermiddagen så var det vidare transport med buss till Petra. Direkt nästa morgon var det sightseeing för att beskåda alla de fantastiska stenmonumenten som sedan 1985 finns med på UNESCO:s världsarvslista. Enorma byggnader som var framkarvade och uthuggna direkt ur stenbergen. Det som stack ut mest var nog skattkammaren Khazne al-Firaun som var det första man såg då man kom ut från den trånga klippgången Al-Siq (ni kanske känner igen den från filmen Indiana Jones and the Last Crusade?). Monumentet är cirka 40 meter högt och uthuggen i flera våningar. Otroligt imponerande och man kunde verkligen känna historiens vingslag. Mäktigt är nog det bästa ord som beskriver byggnaderna. Efter sightseeingen var det promenad tillbaka till hotellet i drygt en timme eller åsneridning som gällde. Jag valde det senare alternativet och måste erkänna att åsneridning var lika kul som våghalsigt. Djuren drar lite hit och dit och hade en förkärlek att välja de mest tajta och mindre säkra vägrutterna. De hade säkert full koll men jag höll i mig för allt vad jag var värd och hade säkert syrat upp både rygg och armar efter fem minuter.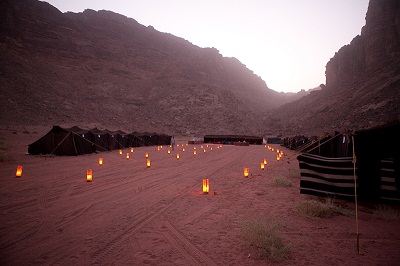 Beduinlägret i Wadi Rum där vi övernattade.
Efter detta var det dags för lite konferens innan resan fortsatte vidare mot ökenlandskapet Wadi-rum. Jag hade aldrig tidigare besökt en öken så detta resmål var även det lite speciellt. Wadi Rum har ett fascinerande landskap som präglas av den röda ökensanden varvad med sandstens- och granitklippor. Eftermiddagen fördrevs med lite jeep-safari och sedan var det middag vid ett beduinläger och övernattning i beduintält. Mycket stämningsfullt och faktiskt ganska kallt på natten när solen inte längre värmde. Hur som helst så bäddade jag ner mig ordentligt och sov rätt bra även om vildhundar höll mig vaken då de skällde så det ekade mellan bergen.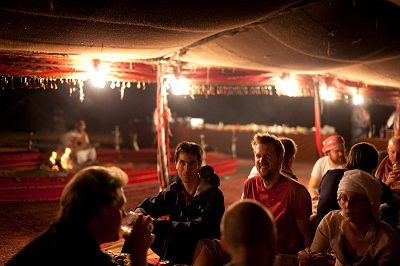 Middag i beduinlägret. Stjärnhimmel och lägereld.
Nästa dag (lördag) inleddes med kamelridning tillbaka till turiststationen där vi sedan fortsatte till kuststaden Aqaba som ligger utmed Röda havet. Här var kontrasten total mot beduinlägret. Hotellet var femstjärnigt och hade en mäktig utsikt, faciliteter och poolområden samt gångavstånd ner till havsstranden. Under lördag till måndag var det en hel del konfererande på programmet. På kvällarna var det goda middagar och jag skojade faktiskt till det både en och två kvällar med lite vin till maten. Det skulle jag dock kanske inte ha gjort då jag lyckades slarva (supa?) bort mina hemnycklar. De var helt plötsligt helt försvunna och hur mycket jag än letade så hittade jag dem inte.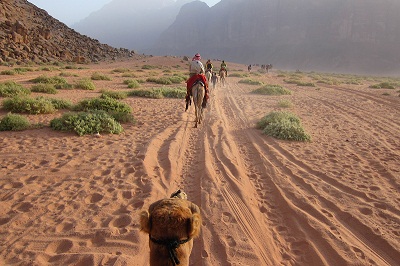 Kamel-FPS i Wadi Rum.
En förmiddag hade vi lite ledig tid innan konferensen och då passade jag och två kollegor på att sticka ut och köra lite löpning. Jag hade visserligen säsongsvila men sällskapet var gott, omgivningen otroligt inspirerande och tempot hanterbart så det var bara att hänga med. Sista dagen av vistelsen vid Aqaba fick jag (och några till av mina kollegor) någon lättare släng av magsjuka. Jag fick ont i kropp och huvud samt en orolig mage. Lika snabbt som den utbröt försvann den sedan vilket var skönt. Att vara magsjuk och på resande fot är ingen rolig kombination.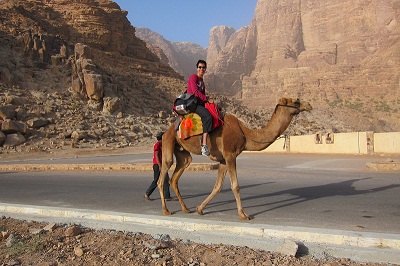 Kamelridning skoj.
Löpning roligare.
Vid lunchtid på måndag var det återigen dags att checka ut och pallra sig upp på bussen. Nu styrdes kosan mot Döda havet och ett riktigt fint hotell precis intill. Vi anlände under kvällen och hann både med en god middag samt lite konfererande. Tisdag var resans sista dag och inleddes med bad i Döda havet. Jag hade nog inte så stora förväntningar på doppet men blev tagen med fullständig överraskning. Det var otroligt märkligt och samtidigt fantastiskt häftigt att bara ligga och flyta omkring på/i vattnet. Jag brukar normalt sett ha dåligt flytläge då jag badar men här flöt jag liksom nästan ovanför vattenytan. Tvärs över Döda havet kunde man skymta Israel. Vidare fick jag lära mig att stranden är den plats på jorden som är lägst under havsnivån (cirka 400 m) samt att salthalten i vattnet är cirka 34 procent vilket är nästan nio gånger högre än i vanligt havsvatten. Allt som allt en väldigt speciell upplevelse som givetvis var en av höjdpunkterna under resan. Rekommenderas varmt att prova på och uppleva om ni inte gjort det tidigare.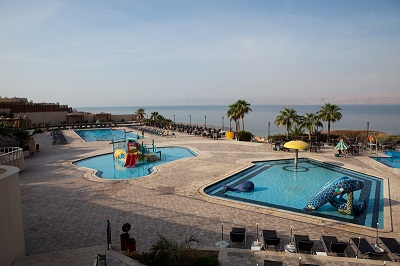 Hotellet vid Döda Havet. Livet är tufft men nån måste leva det.
Strax innan lunch hade vi även hunnit konferera lite till innan vi checkade ut och begav oss till staden Amman som är Jordaniens huvudstad. Under några få timmar tittade vi runt lite i staden på olika monument och utsiktsplatser. Vi hann egentligen inte se så mycket men staden verkar expandera kraftigt och det byggdes för fullt nästan överallt. Sent på tisdagskvällen återvände vi till Sverige och Arlanda. En mycket uppskattad och trevlig resa tillsammans med kollegorna med både bra konferenspunkter och turistande. Jordanien var verkligen en positiv överraskning. Skulle gärna återvända dit någon gång i framtiden.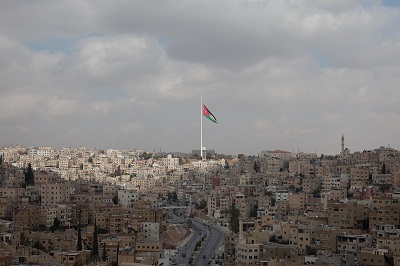 Amman.